My obsession with fish started at 5 years old, smashing snails for bait for my hand line off the wharf in Mackerel Cove, Bailey Island, Maine. The mackerel could be thick at times, once transporting my plentiful catch back to the cottage wrapped up in my sweatshirt. This led to bass fishing as a youngster in the pond at the end of my cousin's street in Putnam Valley, NY. And catching "sunnies" in the Raritan River in my home state of New Jersey.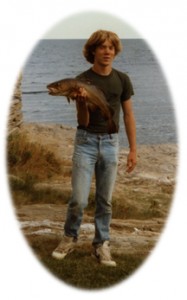 I moved to Maine at the age of 18 where my love for the striped bass took hold. I then made my way out to Seattle and tried my hand at steelhead. A noble species indeed! Taking a break from Seattle, I tried out the bluefish runs on Nantucket island, true slammers! A few years later I found myself in South Walton County Florida.
Florida is where my fishing obsession burned like wild fire. I got my first fly rod, circa '92.
My love for the speckled trout flourished and I have been stalking them up to this writing. I started tying very rudimentary flies to match the finger mullet that the trout and redfish love so. Since then I have caught dozens of species on fly.
I have retired from my 33-year chef career, including 20-year restaurant partner and founding chef of Vintij. I'm pleased to have turned my fly-fishing passion to an on-the-water career.
If you've wanted to try fly fishing but felt intimidated, I'm your guide. I will work with you until you are proficient in casting. I'm a patient teacher who gets far more enjoyment from your fishing success than any fish I've ever caught. As Curt Gowdy would say…tight lines!